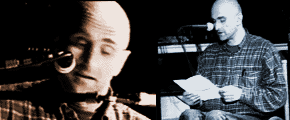 Wolfgang Temmel
1953
He lives in Schwanberg, Styria in the south of Austria. He has spent much time in New York and London. With his visual and acoustic as well as recent olfactory works, he has participated in numerous exhibitions and festivals (e.g.: Ars Electronica Linz; steirischer herbst; Wiener Festwochen; Berliner Hörspieltage; europa'79, Stuttgart; Banff Center of the Arts, Canada; Radio ORF - Austrian Public Broadcasting Station; Graphische Sammlung Albertina , Vienna; Neue Galerie am Landesmuseum Joanneum, Graz).
Between 1985 and 1992, he collaborated with Fedo Ertl (A) to form the artists' duo TEER (TEmmel/ERtl). TEER produced works -primarily installations - that made socio-political references, e.g. Silent News, Wiener Festwochen 1992.
Since the beginning of the Eighties, he has produced an ever increasing number of acoustic works; amongst these was (He)artbeats at the 1989 Ars Electronica Linz in cooperation with ORF Kunstradio.
In 1989, he founded the Stille Post Orchestra - whose work motto was "separately I am - together we are" - with varying musicians, amongst whom were: Jon Rose, Werner Jauk, Franz Schmuck, Gerfried Stocker, Josef Klammer, Andreas Kerkhoff. In 1991 the CD Stille Post No. 1 was released.
In 1992, he founded the Ensemble Acoustic Resource (E.A.R.) with Axel Rab and Mr. Spock. In cooperation with the Graphische Sammlung Albertina and the ORF Kunstradio, he realized the project Symphonie No. 1 Albertina.
In 1995 for ORF Kunstradio he realized the piece Am Arsch der Welt (At the Back of Beyond) together with Gottfried Bechtold (A), Robert Kozinuk (CAN) Inge Liese Christiansson (DK), Jim Denley (AUS), Eberhard Eckerle (D), and others.
Since 1983, Temmel has been working on Eine Kunstgeschichte (An Art History) in diverse medial situations, as for instance:
For the XXkunstkabel Graz/Colone 6 videoclips in 6 languages were produced
"An art history - 11 episodes in 11 languages in 11 minutes" with Hank Bull, Sergio Messina, Vuk Cosic, Akihiko Fuke, Thomas Mulcaire, Rasa Smite, Janos Sugar, Not Vital, Olia Lialina, Jale Tükel & Sevgi Uluköylü - for ORF Kunstradio in 1997.