1945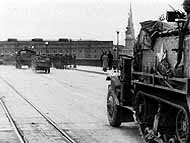 U.S. troops entering Linz over the undefended Nibelungen bridge.
---
Although the retreating German army had mined the Nibelungen bridge it was still intact when the Americans arrived. Linz surrendered without a struggle and was under American control by May 5 1945. A few days later, as German resistance evaporated, the U.S. and USSR armies met east of Linz near Amstetten.
The ceremonial meeting of the two armies was later carried out on the Nibelungen bridge which was one of the few points connecting the Soviet occupation zone north of the Danube and the U.S. zone to the south.
---
---

EPILOGUE

The only information to be found on the bridge about its history is a plaque which reads:

"WITH THE CROSSING OF THIS BRIDGE IN THE YEAR 1945 ENDED THE SUFFERING OF THOUSANDS OF EXPELLED SUDETEN GERMANS."

There is no plaque explaining that not only was Adolf Hitler the man responsible for the building of this bridge but that he was also responsible for the invasion of Czechoslovakia which was the cause of the expulsion of the Sudeten Germans after the war.